The Genesis Health Project is partnering with the Alzheimer's Association Central New York Chapter to provide Alzheimer's disease and dementia education to the African American community in Syracuse. Dementia caregiver services are available through the Alzheimer's Association, the Onondaga County Office for Aging, and At Home Independent Living. Dementia assessments and care plans are available from the Center of Excellence for Alzheimer's Disease at Upstate Geriatrics. This project is supported by a grant from the New York State Department of Health Alzheimer's Disease Program.
Alzheimer's disease is the leading cause of dementia.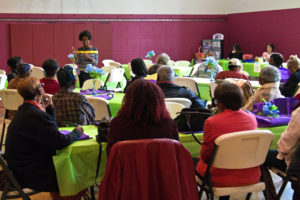 Research shows that older African Americans are almost twice as likely as whites to develop Alzheimer's disease for genetic, biological and socioeconomic reasons.
Other risk factors for Alzheimer's disease or dementia include:
Aging
Family history
Heart health
You cannot prevent aging or change your family history, but you can work with your doctor to monitor your heart health and to treat conditions like heart disease, diabetes, stroke, high blood pressure, and high cholesterol.
There are 10 warning signs and symptoms of Alzheimer's disease or another dementia. Any person may experience one or more of these warning signs to a different degree.
Memory loss that disrupts daily life.
Challenges in planning or solving problems.
Difficulty completing familiar tasks at home, at work, or at leisure.
Confusion with time and place.
Trouble understanding visual images and spatial relationships.
New problems with words in speaking or writing.
Misplacing things and losing the ability to retrace steps.
Decreased or poor judgment.
Withdrawal from work or social activities.
Changes in mood and personality.
If you or someone you care for is experiencing any of these warning signs, they may be caused by other medical conditions.
Early diagnosis is the key.
Find a doctor you feel comfortable with. Many people contact their regular primary care provider about memory loss.
Your doctor may refer you to a physician who specializes in the diagnosis and treatment of Alzheimer's disease and related dementias, like a neurologist or a geriatrician.
If your are caring for someone with dementia, these programs are also available:
12-Week Healthy Living Program
Monthly Caregiver Support Group
Caregiver Respite Services
For more information, contact the African American Dementia Caregiver Support Program by calling: 315-876-2338 or by emailing: genesis@syr.edu.
In-home respite services are provided by At Home Independent Living of Camillus, NY.